Children with diagnosed with social communication deficits (with or without a diagnosis of autism spectrum disorder) may be referred for treatment services for a variety of needs, including:
improving peer engagement
increasing awareness of social cues
developing and expanding conversational competence
developing age-appropriate play skills
use of language to initiate and respond to others for conversional effectiveness
Individual Services
Therapy sessions are tailored to the specific needs of each child in a supportive, distraction-free setting. Clinicians use a variety of techniques and strategies to facilitate progress. Families are encouraged to observe treatment sessions through a one way mirror and/or participate in sessions as appropriate.
The Group Language Therapy Program
The Group Language Therapy Program provides a social language learning experience for young children in a small group setting. Children are provided with individual support to participate with their peers in variety of play based activities and routines, including music, movement, story, snack, and play. During twice weekly sessions, group and individual goals are addressed that foster social communication, receptive and expressive language, and play development. Graduate clinicians work collaboratively with a developmental specialist and a clinical instructor who is a speech-language pathologist.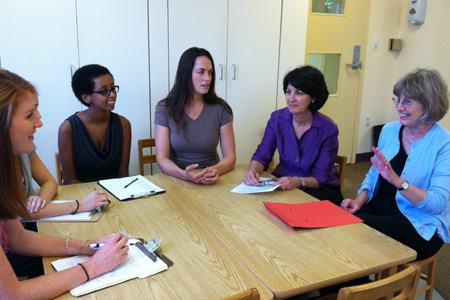 In The News: