Services for Adults with Aphasia
Evaluation and treatment services are provided to adults who suffer from neurologically based speech, language, and cognitive deficits. These impairments are usually caused by stroke, head injury, or other neurological problems, and result in a range of communication impairments.
Evaluation
Evaluation services provide information to determine and/or confirm a diagnosis, develop a treatment plan, and monitor progress over time.
Individual Therapy
Individual therapy sessions teach clients and their families to help regain communication skills and compensatory strategies to manage their disorders in activities of daily life. Goals are established jointly with each client and his or her family member(s). Innovative treatment strategies include high or low-tech augmentative and alternative communication, video taping, and role-play in everyday communicative contexts.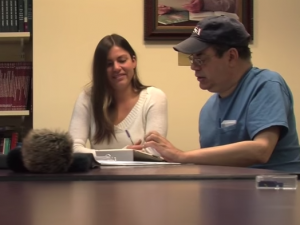 Group Therapy
Group therapy sessions provide a realistic communication context in which adults can practice communication skills. This approach provides a supportive social environment with peers to assist in generalization of skills. Group offerings vary from semester to semester. Here are a few examples of previous offerings: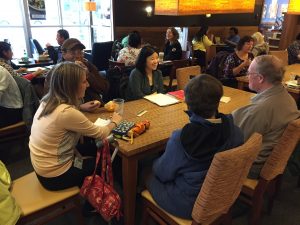 Conversation Group In small groups of three to four, adults with aphasia meet weekly to engage in conversations focused on current events and topics of interest to participants. Discussions are both structured and unstructured to facilitate work on individual goals within the group setting, such as word finding, initiation, topic maintenance and use of compensatory strategies.
Remembering Words with Friends The RWWF group engages in various word finding games to target word retrieval, working memory, deductive reasoning and use of effective communication strategies. The group, ranging from 2-4 participants, also provides opportunities for conversational tasks to utilize compensatory strategies in a supportive and comfortable environment.
Language of Letters and Numbers The Language of Letters and Numbers aphasia group provides opportunities to comprehend, process and convey alpha-numerical information. The clients engage in a variety of functional tasks requiring transcribing information from voice mails, travel itineraries, recipe ingredients, etc. to practice the use of effective strategies. They also participate in games that require spelling out words or calling out numbers and letters.
Community Outing Group The Community Outing Group provides people with aphasia real-world opportunities to practice communication skills in restaurants, stores and other locations. Before going into the community, participants practice their related communication skills, such as ordering food, seeking information and anticipating problems that may occur. During the outing, graduate students and clinical instructors provide support during interactions as needed. (Fall and Summer Only)
Connecting Online The Connecting Online Group provides opportunities for people with aphasia to practice writing emails and text messages and using social media platforms like Facebook, YouTube and Pinterest. Graduate students help clients with aphasia plan what they want to say, help them learn how to use each platform and provide assistance as needed. Participants report being able to "write to friends and family much better" as a result of being in the group.
Dysarthria Group This group is designed for people with dysarthria to improve their speech intelligibility during conversation by using compensatory strategies such as diaphragmatic breathing, improving breath support, reducing rate of speech, pacing of words or syllables, exaggerating articulation, increasing volume, and/or using appropriate prosody/intonation. In addition, participants will learn and use compensatory strategies to supplement speech when the message is not successfully conveyed in order to promote carryover, for example, gesturing, pointing, writing, drawing, use of an alphabet board, AAC low tech or high tech systems.
Living With Aphasia The Living with Aphasia Group provides an opportunity for people with aphasia to come together to discuss how having aphasia has affected their lives. Through story telling, photography, journaling and creating "word clouds," group members get support from each other as they share their stories. A past participant reported "becoming aware of new people and with a new outlook on life with aphasia."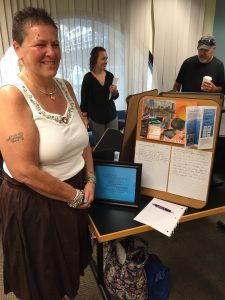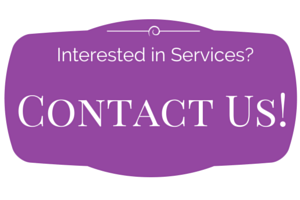 In The News:
Aphasia clients learn about Pinterest, Facebook at Emerson
Aphasia Awareness Day at the State House